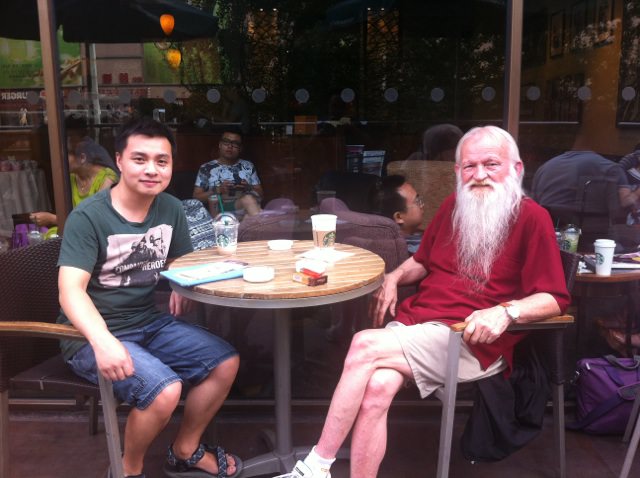 今天我和朋友一同去喝咖啡,waitress见我说英文也用英文问我要点些什么。最后我点了a grande vanilla latte。想起以前有学生不清楚杯子大小的说法。Starbucks的饮品一般分为Tall, Grande, Venti。There isn't a short, as far as I know.  It's just tall, grande, and venti. 所以不分为小、中、大杯,而是中、大、超大杯。由于是意大利语,大家需要注意正确的读音。 "tall" 读 tall  "grande"读 grahn-day  "venti" 读ven-tee。 按读音分别加上重音。这里也把一些基本知识给大家讲解清楚,以后就别再犯迷糊啦~
GLOSSARY
Tall: Small
Grande: Medium
Venti: Large
Double: Two shots of espresso, versus the typical one shot of espresso
Triple: Three shots of espresso, versus the typical two or one shot of espresso
Latte: Hot milk with one or more shots of espresso
Cappuccino: Hot milk with one or more shots of espresso and lots of foam on top
Extra hot: hotter than usual drink
With room for milk: Don't fill the coffee to the rim of the cup, leave room for milk
Extra foam or no foam: Exactly that
Iced coffee: A coffee that has been cooled off then poured over ice. It's a great summertime treat but can be enjoyed all year long.
Soy Milk: A non-dairy alternative to milk; Starbucks serves a vanilla-flavored soy milk.
Frappuccino: A thick, blended iced coffee drink with syrup and sometimes whipped cream.
THE GENERAL SEQUENCE OF THE WORDS YOU ORDER WITH ARE:
SIZE – ICED (optional) – NO FOAM (optional) – MILK (optional) – DECAF (optional) – NUMBER OF SHOTS (optional) – DRINK TYPE
EXAMPLE
"Tall, skim, decaf double latte"
"Grande triple cappuccino"
"Venti iced coffee"
Follow along with the "How to Order at Starbucks" transcript and listen to the pronunciation and the order of words. Practice listening and reading the transcript repeatedly to get more confident in your own speaking and ordering abilities.
HOW TO ORDER AT STARBUCKS
BARISTA: Hi! What can I get you?
CUSTOMER: I'd like a grande soy latte, please.
BARISTA: What's your name?
CUSTOMER: It's Darren.
BARISTA: That'll be three fifty-nine.
CUSTOMER: Here you go. Thanks.
BARISTA: Hi, how are you doing?
CUSTOMER: Fine, thanks. I'd like to get a venti cafe mocha with whip please.
BARISTA: Did you say with or without whip?
CUSTOMER: With whip.
BARISTA: Got it. That'll be five seventeen.